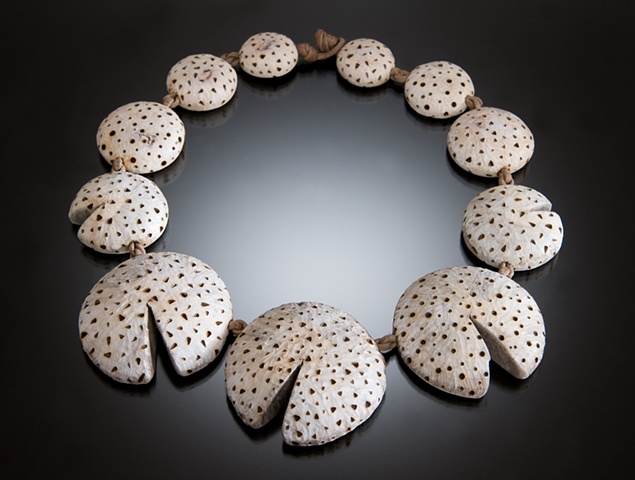 My interest in working with driftwood started when I lived for a brief time in Hawaii. It was a glorious time for exploration and creativity.
On returning to New Mexico, I sought out a source of local driftwood, finding it on the banks of the Rio Grande. It was there that I found an abundance of cottonwood, juniper, and pieces of milled lumber, all of which had floated down river with the spring snow melt.
The non precious nature of driftwood has proven to be an ideal working material. I can indulge my interest in the design elements of shape, scale and proportion in the making of my jewelry, without the constraints of cost and availability.
Driftwood also lends itself beautifully to being worked with simple, and mainly hand tools. It takes color well and I am able to make surface pattern with simple wood burners and dremel tools.
My choice to work with minimal tools and to hand finish each element is a very important part of my jewelry creation. It keeps me in touch with the evolution of each piece. I like the process…the 'hands on' nature of it.
I am currently exploring different ways of constructing and assembling the beads in my necklaces, for maximum effect. And I continue to be excited by the infinite design possibilities.